Al about arrival and picking up your room key
Check-in is from 18.00 until 21.00 or when cleaning is done.
I do my best to be flexible in relation to the check-in time, but some days I'm not done cleaning before 18.00 somedays it's a lot earlier.
Tell me your plans and I'll text you when I'm done cleaning to let you know check-in is possible.
I'll do my best to fulfill realistic check-in requests, but I cannot promise anything in advance. If early check-in is possible I'll let you know, if you have forwarded a request.
Please always remember to inform us about your ETA (estimated time of arrival)
If you send us a text message with your ETA then we need these information:
Name as listed on the confirmation
Your ETA
Your ref. no (only direct reservations)
Agency name (only if you booked and payed only)
Please forward your ETA no matter if you expect to arrive before or after 18.00, it is very helpful to us and to our other guests. I.e. if we know that all our arriving guest are on the same late airplane then we can let the departing guests sleep a little longer.
Please also remember to let me know if you are delayed, I can shop in 30 min. but not if I'm waiting in wain for you.
Personal check-in
If we have arranged personal check-in then it is quite simple
Go to the glass door in the patio
Use the doorbell and wait
Or send me and text message (Name + arrived) please don't send it before you are at the door
I'll be there shortly
Busy times
Weekends, publics holidays, European school holidays and confirmation periods for region East Jytland.
If it is a bit out of season then it is especially the weekends with nice hiking weather, events at Maltfabrikken, Fuglsøcenteret and other local event makers that are extra busy.
If you need to participate in a Church event a Sunday, then we recommend you reserve the room from Saturday to Sunday or from Saturday to Monday. Our location close to the Church makes us an attractive accommodation for guests that would like to change clothe prior to participating, but we cannot offer early check-in Sunday morning.
We close our sale late at night so we cannot tell you if the room are available early in the morning in advance. The rooms are ready for check-in when all has been cleaned, if early check-in at 11.00 is important, then you need to book the room 1 day prior to arrival – so it is free at night.
When is early check in most likely possible?
Monday-Friday from January 10 – Marts 30
During these months it is often possible for 1-2 rooms to check-in already at 14.00 o'clock.
Some of the weekends in the same months check-in has been possible around 15-16 o'clock
Some days even earlier, but as mentioned we close our sale in the evening so we do not promise anything in advance, if early check-in is important then you can always boy early access.
Check-in after 21.00
In case of arrival after 21.00 then you need an access code, just to be sure. Please let us know in due time so we can set up the code and the necessary arrangements. I.e, if you arrive with a airplane in Aarhus at 20.45 then better safe than sorry.
Using the access code
In case of arrivel when we are not at the premesis (after 21.00) then there will be forwared an access code and instructions for using it. The code is only to open the door and pick up the key. Once you have the key you use the key to open the door. READ MORE
IMPORTANT
You are not allowed to give other people access to the premises.
Unfortunately we still experience that people arrive that does note have a reservation nor arrangement. Please ask them wait in the patio, do not let them in.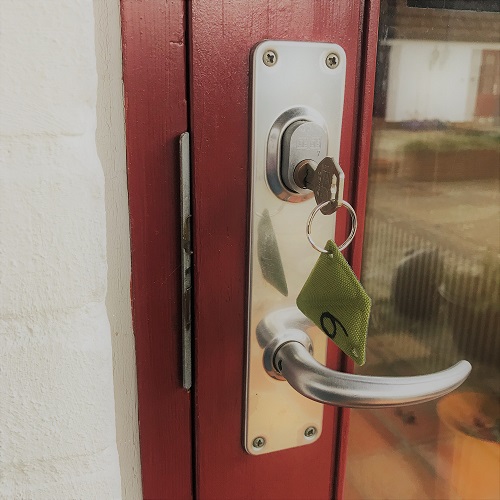 During busy period, I never know in advance when check-in is possible, as it depends on quite a lot of variables. But if you tell me you are in town I'll text you when I'm ready for check-in.
The departure time of all guests
How much time I need to clean after each individual guest this specific day
How long the inhouse guest sleeps
How much time the inhouse needs at the shared facilities
How many SMS's I need to answer during cleaning
How many calls I need to answer with an SMS
If there is any mishaps I need to take care of
How many guests has forgotten to bring their own linen and towels
What the weather is (if the linen from yesterday could dry out side)